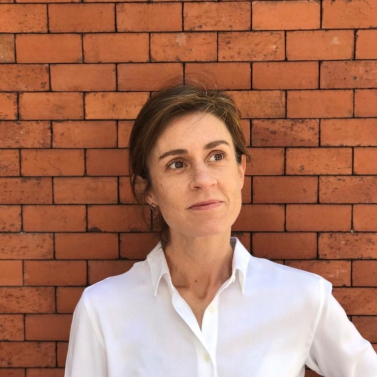 ROLE:
Co-Founder and Managing Director of Innogate to Europe
Meet Paloma Lozano, co-founder of Innogate to Europe, and read about her road to entrepreneurial success; her approach to the business struggles caused by the COVID-19 crisis; and the next steps for her company.
When and how did you first become interested in starting a business?  
Before I started my own business, in 2011, I had never considered this option. I did not have any entrepreneurs in my family or nearest acquaintances. I started my career working for others and did not envisage becoming an entrepreneur. I would say that starting a business appeared as an opportunity, I tried it and liked it so much that it changed my mindset. It is stressful and implies being challenged every day, facing crises, taking hard decisions… but it brings a feeling of freedom and excitement that compensates all its shadows, as long as the business goes moderately well and is economically sustainable.
Can you tell us a little about how Innogate to Europe started?  
Innogate to Europe started in February 2011. My then colleague and now business partner, Silvia Sarria, and myself were then delivering part of the services that we now provide as a company, but within a team at a larger organisation. At that point, an opportunity arose to provide those services through outsourcing. We prepared an offer that was selected and quickly set up our company. We had a client. And then we had a company. And all of a sudden, we saw a big range of other activities that we could start on our own. After one year and a half we could hire our first employee to enlarge our team. Being able to create a job, and proving that an amazing professional, Katharina Kühnelt, believed in our project to the point of coming to work with us, made a big difference. Since then, we have faced good and hard moments, our structure has changed, but we are still standing and excited to face new challenges and start new projects.
What is Innogate to Europe's Unique Selling Proposition or competitive advantage?  
We are focused on promoting entrepreneurship and innovation through transnational cooperation. We do this by launching and managing programmes, projects and activities that facilitate the participation of public and private stakeholders (universities, clusters, associations, foundations, schools, entrepreneurs, companies, etc.) in joint activities that bring along capacity building, learning, business growth, technology transfer and cooperation to achieve common goals, in an international, multicultural and complex environment.
The professional and personal quality of our team members, our commitment, reliability, flexibility and capacity to understand and respond to the needs of each situation, based on a good set of knowledge, experience and transversal skills, are what I think our clients, collaborators, and end users value the most. After nearly 10 years, we have a proven record and a reputation that generates trust.
As a woman entrepreneur, what did you consider crucial for Innogate to Europe's success?  
From my own experience and perspective, Innogate to Europe is a company where you must work hard, meet deadlines, commit to quality and deliver results, but at your own pace, focusing on your own strengths and capacities, being able to come up with your own ideas, with support and collaboration as a team, and a thoughtful, considerate and participatory decision making process. Ensuring work life balance and promoting the development of our team members' capacities and knowledge allows us to select and attract the best professionals in our field. Being a women-led company, I think that empathy, intuition and combining rationality with emotion ensures and reinforces these aspects.
If you had to choose your top achievement as a woman entrepreneur, what would it be and why?  
We started Innogate to Europe when my second son was nearly 1 year old. If we all need to live with uncertainty, being an entrepreneur, the feeling of vertigo is even deeper. Raising two sons and a company at the same time drains all your energy. I have felt tired and guilty very often. But it is also very rewarding. I am lucky to have a very supportive husband and family and a good financial situation, of course this makes it much easier. Overall, I think that I have managed to prioritize well and find a good balance. I am happy, I cannot name a better achievement. I believe that happy people have a positive impact on others.
Has the current COVID-19 situation affected Innogate to Europe and the way you and your team work?  
We have had to re-plan and reorganise our activities: some have been postponed, others have been carried out in a different format. The lack of physical meetings has made it more difficult to advance in some ways. But we have not been significantly affected. We telework regularly and are used to videoconferencing with team members and collaborators based in different countries. The fact that other entities in general, and in our working environment in particular, have embraced telework is, I think,very positive. It will make it easier for many workers to have a better work-life balance; and for many entities to be more productive, reduce costs and have a lower environmental impact.
What is Innogate to Europe doing to overcome the problems caused by COVID-19?   
We have advised several companies and entrepreneurs who have consulted us about new funding opportunities and collaborative platforms that have been created as a response to the sanitary crisis to facilitate finding new solutions through cooperation.
In the near future, we plan to get involved in new projects that will help to face "the new normal" and be better prepared to cope with potential new crisis, especially in the field of inclusive entrepreneurial education.
Are these solutions already bearing results?   
We will see in the medium-longer term.
Has Innogate to Europe had to apply for access to finance from banks, or any government support packages, because of COVID-19? If so, did you experience any extra difficulties in doing so?
Fortunately, we have not had the need to apply for finance or support packages because of COVID-19.
What would be your advice to WEgate community members in order to conquer this unusual situation?  
The sanitary and economic crisis has hit and will continue to hit hard many professionals and entities. It will require individual and collective efforts to overcome the crisis and adapt to a new situation that will bring difficulties, but also new opportunities to create and develop new products, services or processes. Spotting and responding to these opportunities will help many businesses to thrive.
We should all learn from this experience and try to accommodate to this new working and living environment in a sustainable way, with a human- and environmentally-friendly approach. We have a good chance to leave behind old organisational behaviours (namely unnecessary long office hours and commuting) that have ruled for a long time and that are obviously not optimal.