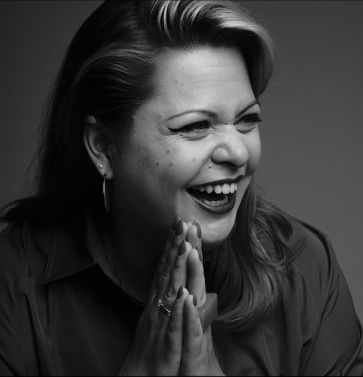 Supporting Women Entrepreneurs in times of COVID-19.
We have been talking to inspiring Women Entrepreneurs who are pivoting their operations to adapt to the changing climate.
Meet FashionTech entrepreneur Lisa Lang, and read about her road to entrepreneurial success, her approach to the business struggles caused by the COVID-19 crisis, and her determination to always turn obstacles into opportunities.
In the beginning…
For me, it wasn't about starting a business in the beginning. I wanted to solve a problem. I love technology and fashion equally, but they never seemed to make a connection. When I started to look more into the field of fashion technology, there was either ugly wearable fashion or stupid fashion. And I was always thinking – why can't I be smart and pretty at the same time? This thought and frustration started it all.
The business came in a bit later, when I did deeper market research during my MBA. By then I had worked in the tech startup industry for almost 10 years, and I started to look into the fashion industry's business models. And then it hit me – fashion as an industry is about to be disrupted hard. It hadn't been renewed or innovated in a long time, and it needs people from the outside to rock the boat. The reason why I was so certain of this came from my experience in the tech startup world –this exact situation has happened in the hospitality (Airbnb), transportation (Uber), music (Spotify) and movie (Netflix) industries. So I knew – something HAS TO happen and I wanted to be there when everything turned into chaos, because there is opportunity in chaos.
Let there be light: ElektroCouture, The PowerHouse and OFundamentO
I started with ElektroCouture – it is was an experiment, I wanted to make light-based wearables. LEDs lights are super pretty but also super smart. However, nobody seemed to think about sewing them into everyday clothes.
During my work with ElektroCouture, I had more and more designers, brands and technology companies coming to me. They all asked for help and support to break into the FashionTech, SmartTextile industry. However, ElektroCouture is a brand, not a consulting agency. So I simply started my second company, ThePowerHouse (a.k.a. the name is the game!). I simply realised my expertise in this field is a product and brings value to customers – and I can make money. And so my second company was born.
I am now taking care of my third company, OFundamento (FNDMT) – it's the Portuguese word for 'The Fundament'. With OFundamento, I'm solving another problem: manufacturing solutions. Because at the end of the day, we can have the ideas (ElektroCouture), and we can turn them into products and campaigns (ThePowerHouse), but who is actually making them for real? There was no factory offering pretty electronics integrated in pretty fabrics – and that goes for both European standards and quality.
Business survival in times of COVID-19
Last year, with the establishment of OFundamento, I moved to Porto, Portugal – the heart of European Textile Manufacturing. I was just about to create a network of factories, and of trained textile engineers and seamstresses to understand electronics…. and then COVID-19 hit the world. All of a sudden, all the projects we had lined up for this year got cancelled. I was in shock, and I got worried. How can I keep my companies afloat? How can I secure jobs for my team?
It was really frustrating – all this hard work throughout the past year… has all this been for nothing?
I ended up on my couch with lots of wine, anger and frustration. However, as a seasoned Entrepreneur, I always know that the problem itself contains the solution. I just had to look at the problem from a different angle. I asked myself: what are we as a company in this new world? How can we adapt? What do people pay money for, and how can we deliver it? How can we make money and survive?
At that moment, I decided to not see the problems but the opportunities – and all of the sudden, everything fell into place.
Of course, everyone needs masks and protective gear. Don't I already operate in the middle of manufacturing heaven? Don't we do exactly that? Isn't FashionTech all about adding extra functions to our daily garments? Intelligent work wear becomes daily fashion wear. Now we just have to change the production of our factories, and make products like masks available in big quantities. Luckily, I realised this early enough, while everyone was still debating whether we actually needed masks and should wear them. I started to talk with our factories. In the beginning, they were sceptical – their normal fashion orders hadn't got cancelled then (they have been now). And I decided to fully take the risk– I asked them to trust me, I guaranteed big orders, and I got to work. I introduced standards for masks, equal prices, transparent cost share and brought all the small and medium factories together.
In a way, what I set out to accomplish with OFundamentO, and what I thought would take me years, happened within a few weeks. Diamonds are made with pressure, as simple as that.  Luckily, my team (3 Porto-based amazing ladies) and I have always worked remotely and in a fully digital way. We all know how to work independently and in a full digital setting – so we hit the ground running.
It was like running a marathon. I knew how much money we had left in the bank, and how important it was to generate orders ASAP.  I decided not to go for COVID-19-specific fundraising activities or to apply for grants – it would have taken too much of my time, time that I need to re-build the company. We were in the middle of applying for EU grants for other projects, so I decided to have one colleague solely focusing on that and finish the application – with the little hope that maybe we could convert them to a later point.
On top of that, we had just started a fundraising project on Kickstarter for an art-meets-technology project (https://fndmt.eu/the-knitting-project/). We turned it into a 'safe the factories' program. And we made it! We actually got fully funded in the middle of the COVID-19 crisis – in reality, we actually got over-funded! That gave us another month to survive.
In the meantime, I had to fight for survival.  
As a female entrepreneur, my issue was always that I am not a bullish salesperson – I see myself in the business of helping, not convincing. Now I had to bang on everyone's door and sell. To be honest, I always considered myself a shy introvert. I am an inventor; I love to be in the factory floor or in front of my sewing machine and invent things. Going on stage, talking with people, telling stories – all of that came with the job. People who see me on stage probably won't believe it, because as I'm so passionate about what I do, I have a lot of fun talking about it. I had to figure this out as I went along, because in the beginning of my entrepreneurial career, I had no marketing budget and no funding – so I had to find another way of getting attention. So I came up with my own brand of 'infotainment', that is, using stories to explain complicated technical concepts. And if you master that, then you are a goldmine for event organizers.
All of a sudden, I got thrown (again) into a man's world: manufacturing, logistics, purchasing departments, medical certification institutes… – it's a hard world with established connections and relationships (it feels like a gentlemen's club, as there's a a lot of buddy-buddy business). And then there was me, knocking on everyone's door with a smile, lots of questions and no big orders (yet) to show for it.
However, a lesson I have learned in these past years is that you don't have to be a bully and super-tough, kicking everyone with your elbows, to succeed. Especially in uncertain times like the current one, you will find that a reasonable voice – kind and gentle but at the same time showing the willingness to learn very quickly, taking no bulls*** and negotiating with no ego – pays off.
I'm now sitting here with a huge list of clients and shipments.  People have tried to put us out of business, they have tried to sabotage us, but I simply got up every day and tried again and again and again. At the same time, I always stayed respectful, friendly and transparent. We're donating to non-for profits on a regular basis, and started to invest in local communities. For instance, I helped an artist shop to go online – http://cruloja.pt/ – and, with that, we're helping 57 local designers to ship their work worldwide.
A word for all Women Entrepreneurs struggling with the COVID-19 crisis
One of the things which kept – and still keeps – me sane during this COVID-19 outbreak is that I started to talk with all kind of people – friends, business partners, you name it – about lots of different things. I started to reach out by asking people for conversation, to mirror and share their experiences. It's good to hear that everyone is in similar situations sometimes allow them to let loose and b***h but carrying each other all the while. I've chosen to be grateful and humble, and to focus on solving problems. I (re)set my true north star (it's a term from lean manufacturing), and just started to run.
Do I have dark moments? Of course! Sometimes I think 'Who do you think you are to think you can make this happen?' And the answer is simple: 'there is an opportunity, make it work – survive!'
I'm not fighting for myself: I'm fighting for my team, my suppliers, my customers – there is a lot of pressure on my shoulders but I've chosen to see this as my motivation, rather than a burden. This has nothing to do with being brave, this is desperate fight for survival. It's also called business – if every day you move a little stone, in the end you will have moved an entire mountain.
---
Keep up with Lisa Lang's companies:
ElektroCouture
Twitter – @ElektroCouture
Instagram – @elektrocouture
LinkedIn – ElektroCouture
The PowerHouse
Twitter – @TPH_Group
Instagram – @tph_group
LinkedIn – ThePowerhouse
OFundamentO
Twitter – @o_fundamento
Instagram – @o_fundamento
LinkedIn – OfundamentO|FDMT
About Lisa Lang:
Lisa Lang is a European entrepreneur, technologist and international keynote speaker.
She has gained recognition as one of Forbes Europe's Top 50 Women in Tech; top 100 most influential people in wearable tech worldwide, one of 25 leaders in fashion and technology worldwide; and has been listed as one of the 50 most important women for innovation & startups in the EU. Lisa Lang a direct adviser for fashion, technology and entrepreneurship for the European Commission. She has been the lead mentor for the new course of digital fashion at Polimoda Florence since 2019. With ElektroCouture, World's #1 Haute-Couture FashionTech Studio, Lisa has celebrated great success with her glowing and highly innovative garments. International museums like Chicago Museum of Science and Industry, the national museum in Stuttgart, Germany as well as Google Art&Culture have honoured her work with exhibitions. In 2017, she started a FashionTech Agency called ThePowerHouse (TPH) in growing demand from companies searching for educational workshops, prototypes and needs for consultation on FashionTech. TPH has worked with brands like CHANEL, LVMH, Deutsche Telekom, SIEMENS. The agency is currently focusing on new concepts of fashion and technology innovation, consulting well-renowned institutions like Polimoda, FIT New York and CENTRO Mexico.
Now living in the wonderful city of Porto, Portugal, Lisa Lang is focusing on her new venture – OFundamentO, a manufacturing company specialised in FashionTechnology products.