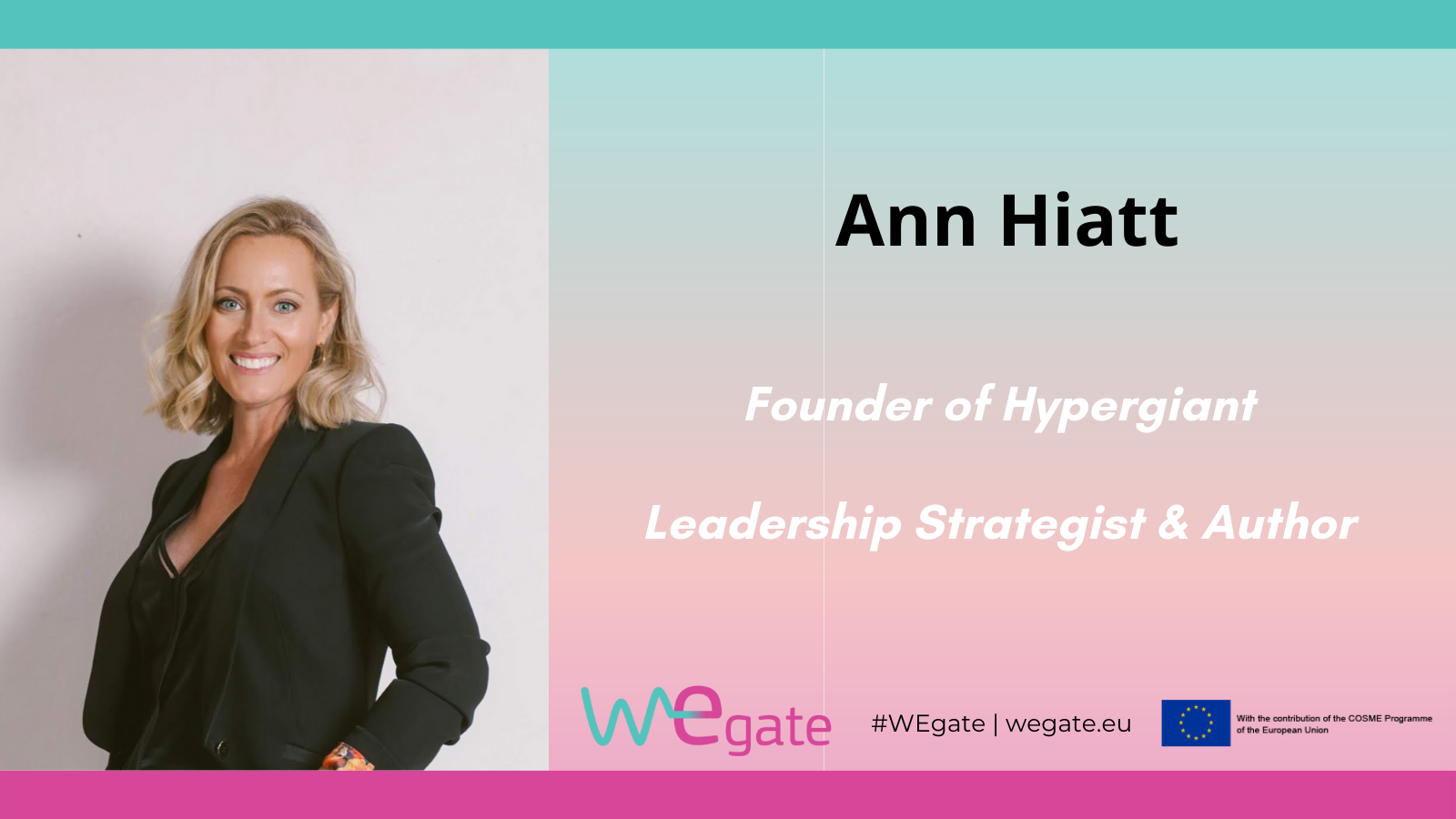 ROLE:
Founder, Hypergiant
Meet Ann Hiatt, Founder of Hypergiant, and read about how she started, her road to success and how she reacted to the COVID pandemic
"Let's stop holding ourselves back and unapologetically make big bets on ourselves!"
When and how did you first get started in business?
My very first job after graduating from university was working directly for Jeff Bezos at Amazon immediately after the DotCom crash. I spent three years in the desk physically closest to him in the entire company learning, absorbing, and contributing as much as I possibly could during those foundational years of the internet and the company.
I then moved to California to do a PhD at UC Berkeley but was then recruited by Google where I then worked for 12 years. Nearly a decade of those years was spent working directly for Eric Schmidt, the CEO and Chairman of Google/Alphabet.
Can you tell us about founding your consulting business in Europe?
I moved from Silicon Valley to Europe three years ago to start my consulting agency. I now work with CEOs all over the world on leadership strategy. I am committed to bringing the best practices of these exceptional leaders and companies I've worked for to entrepreneurs all over the world of various growth stages and industries. I am particularly committed to supporting underrepresented entrepreneurs and democratizing success.
What is your competitive advantage? What do you offer that no one else can?
My experience is very unique. I learned directly from some of the most impactful leaders and entrepreneurs in the world for 15 years during irreplicable stages of growth and innovation. Beyond that foundational experience, I have now spent over 3 years translating those best practices into a playbook for anyone with the ambition to make their moonshot dreams come to life.
What do you consider essential to your success?
I am very proud of the teams that I have designed, hired, organized, and led over my career. I feel strongly about creating teams that consistently raise the bar and keep each other innovating, challenging, and pushing themselves to achieve more while having a lot of fun doing it. Eric Schmidt once told me that my team was "so good it's embarrassing" which I take as a huge compliment. Hiring, incentivizing, and building top-performing teams is a major focus of my consulting work. I have found that who is in your organization is most often far more important than what you are building or how.
I have always prioritized the type of people I wanted to work for over anything else because I knew they would shape the kind of person and leader I would become. I seek out the highest quality people who are insanely smart, curious, kind, collaborative, and results-oriented. They have driven me to take risks and achieve things I would have been too intimidated to attempt alone. This is how I chose which consulting clients to take as well. There needs to be a strong core mission and value alignment between us.
If you had to choose your top achievement in your career to date what would it be?
Honestly, I think my biggest achievement was being brave enough to leave my comfort zone of a job and company I loved and start my own venture. I loved all of my 12 years at Google and I loved California! But something in me knew that it was time to take a big bet on myself. I sold or donated literally everything I owned and moved from California to Europe with only two suitcases to my name to start a new life. There was something so raw and yet so freeing about that process. It is not for the faint of heart but it has absolutely paid off in everything that I have learned and experienced since!
My second big achievement would be publishing my first book, Bet on Yourself, with HarperCollins this year. It was a huge challenge to distill 15 years' worth of memories, best practices, and advice into a single book – let alone that I was doing so during a global pandemic! What kept me going was imagining the reader translating this into their own dreams, work, and life.
Has the Covid-19 pandemic affected your work?
Yes, of course. My company was just over a year old when the pandemic struck and suddenly all of my clients were in complete crisis mode at the same time. I learned a lot about leadership, pivoting, making calculated business decisions, and effective communication during those first six months! I am thankful to say that I and every single one of my clients has come out the other side (if that's what you can call this stage…) better off for it. We have had to get brave, accelerate growth, make some hard decisions and take risks that we likely would not have been pushed to do otherwise. I thought I had learned that earlier in my career – but this really took it to a whole new level!
What advice would you give to other women entrepreneurs?
A personal focus for me in striving for more gender equality is to create an environment where we no longer celebrate perfection over bravery in girls and women. As Reshma Saujani, the founder of Girls Who Code, said in her 2016 TED Talk: "Most girls are taught to avoid failure and risk. To smile pretty, play it safe, get all A's… Men are habituated to take risk after risk. They're rewarded for it… In other words, we're raising our girls to be perfect and we're raising our boys to be brave." The world would be better off if women were able to live out their wildest dreams without feeling shackled to an impossible standard of perfection. Let's stop holding ourselves back and unapologetically make big bets on ourselves!
Ann Hiatt
Leadership Strategist | Author
www.annhiatt.co and www.BetOnYourselfBook.com
Twitter and Instagram and LinkedIn