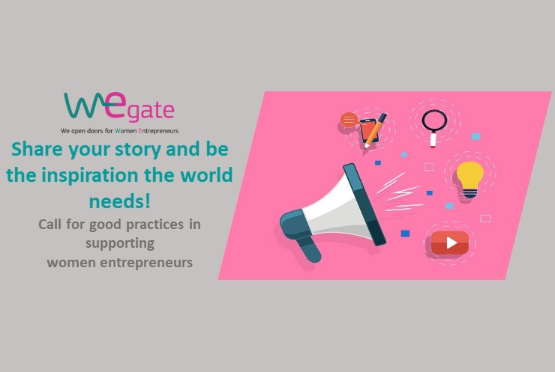 Share your story and be the inspiration the world needs!
Many inspiring breakthroughs and success stories are showing results and impacts all over the world, and several good practices can be replicated and scaled up to address existing gaps and constraints. The strength of the WEgate community lies in the vast experience of its members. Therefore, it is of great importance that women entrepreneurship organizations support each other, share their experiences, and knowledge and be an inspiration for others.  Promoting the partnering around WE development is a question of efficiency and doing what we as WEgate members do best. Joining efforts means achieving a better impact and building momentum to support women's empowerment. Finally, sustainability is too hard to achieve alone, so we intend to detect and enhance the experiences of WE organizations that have produced concrete and measurable results in supporting women entrepreneurs.
Why participate?
Get a chance to promote your best practice and your organization, and share it with the whole community via the WEgate e-platform and social media channels! Your organization can benefit in a number of ways, including:
participating in a peer review will help identify areas where the supporting women's entrepreneurship can be improved;
opportunities to have your good practice showcased at the international level;
the possibility to enhance your networking through the access to the WEgate platform, participation in events and other initiatives where your initiative may be disseminated
Be an example of how others can replicate your initiative and support women entrepreneurs. WEgate offers an ideal environment for the transferability of good practice because a) the community members have a common objective – supporting WE, and b) they have a common platform to share good practices (i.e. the WEgate e-platform).
Who can apply?
Stakeholders supporting women entrepreneurs to start up and grow and/or organisations implementing different WE–related initiatives. With this call for submission of good practices, WEgate aims to facilitate the process of surfacing good practices within the community with a potential for replication and transferability. More concretely, we aim to:
Gain insight into WE initiatives: Exploring what initiatives are learning and reflecting on from the practical experience.
Strengthen practice: Focusing on reaching scale and effective uptake and facilitation approaches.
Strengthen coordination: Building awareness of other initiatives / WE practices /strategies that would be beneficial to coordinate with.
Strengthen collaboration: Building relationships among WEgate community members, incentivizing improved collaboration.
Strengthen a culture of learning: Building relationships and demonstrating practical benefits of sharing.
What is a good practice?
Good practice is a process, initiative or working method that has been proven to work well by ensuring desired results, and could be recommended as a model. It is a successful experience, which has been tested and validated, and deserves to be shared so that a greater number of WE organizations can adopt it. A good practice that has proved successful to a) meet the needs of the women entrepreneurs or to b) optimise the operational performance of the WE stakeholders. A good practice is practically a successful response, developed by the WEgate community members, to address different WE development challenges, ranging from policy development, promotion of WE, capacity building, through services for women entrepreneurs, to intra-organisational tools for improved operational performance.
How to participate?
The application process is now open!
Please apply with your good practice and share it with the world! Fill out the good practice application form here.
For clarifications and information, do not hesitate to contact us:
WEgate – European gateway for women entrepreneurship
Emilija Andonova
e-mail: emilija.andonova@mir.org.mk