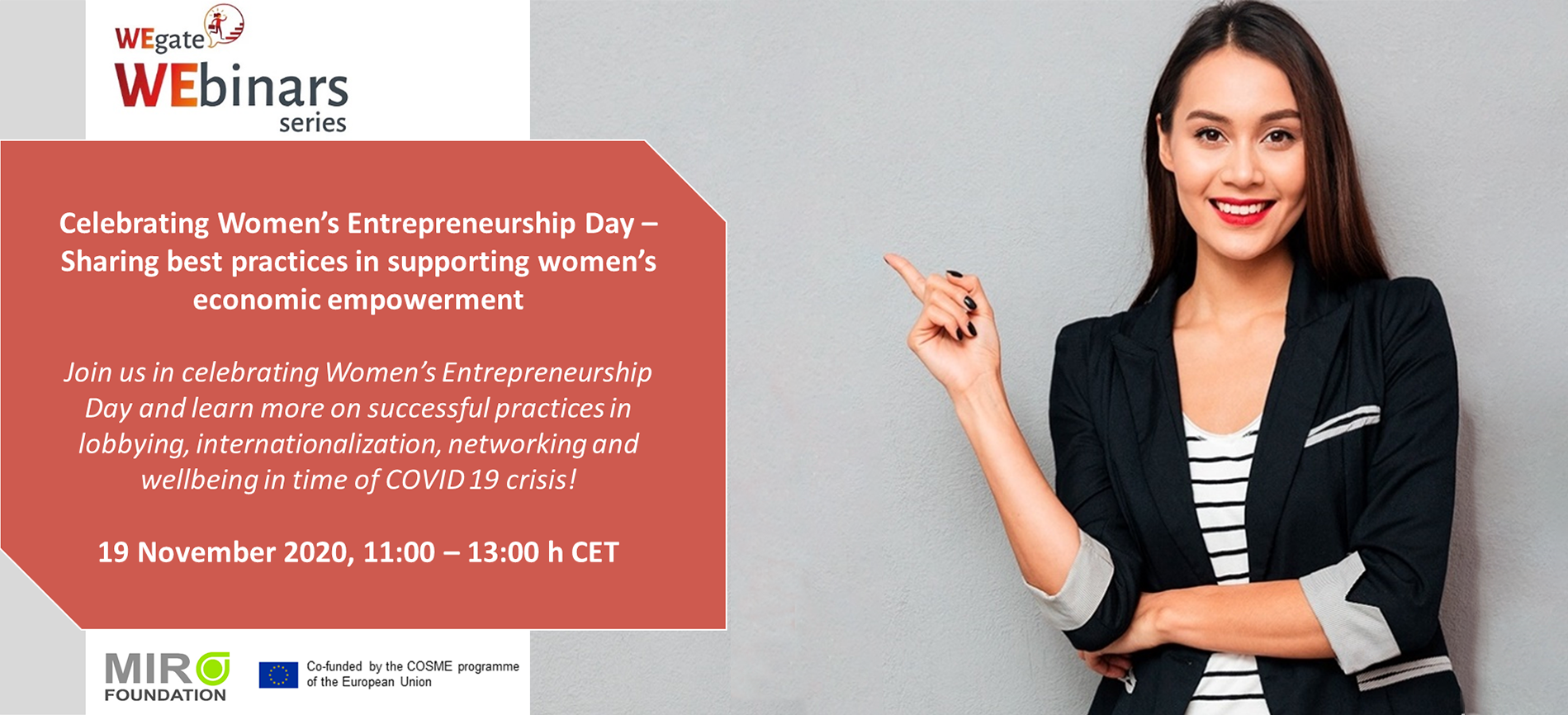 On 19 November 2020 the WEgate team held the second WEbinar "Celebrating Women's Entrepreneurship Day – Sharing best practices in supporting women's economic empowerment".
Peer-to-peer learning is gaining traction as a viable and effective method of knowledge transfer, providing coordination, collaboration and space for learning within the community. In WEgate, we support this process by surfacing good practices of our community members and share them through events, webinars, study visits and web articles. We want to be inspired and motivated by the good practices, not reinventing the wheel, but having an opportunity to replicate or join an existing, already working practice. We treat women entrepreneurship development in its broadest context and that is why we are looking at a variety of practices touching upon different aspects of the process.
The webinar, which featured expert speakers, being representatives of different types of WE organisations, presented their practices for supporting women entrepreneurs and promoting socio-economic empowerment of women, gathered 69 attendees.  With the webinar was enabled strengthening practice, coordination and collaboration among WE community members by gaining insight into women empowerment and women entrepreneurship support and promoting a culture of learning for the benefit of multiplier effect.
Conclusions by our speakers:
''The importance of lobbying as is crucial for achieving changes at system level starts with having one objective and building coalition and partnerships. If you stack to one network you are limiting your potential. Try to reinvent the wheel and use lessons with having an intergeneration discussion and input. Collect ideas, projects, concrete examples and replicate them for more impact and efficiency.'' – Ms. Amelie Leclercq, representative of BPW Europe on the Board of Administration of the European Women's Lobby
''In the time of the pandemic, commercial resilience is important, but we should not forget the emotional resilience and achieving wellbeing in times of insecurity. Three segments which are crucial in women entrepreneurship with our goal to unite women entrepreneurs and professional organizations to create powerful global safe community are to acquire mentoring, networking and funding. In mentoring we need more ambassadors and mentors of women to join and to support the women start-up community being role models and inspiring women entrepreneurs in their process. Networking provides international connections with supporting each other and collaborate in further cooperation and focusing on funding with business angels to support the women community.'' – Ms. Yulia Stark, President of the EWA – European Women Association
''Enterprise Europe Network supports the efforts for internationalization of its SMEs with particular focus on women entrepreneurs and companies from the textile and fashion sectors by organising brokerage events, company missions, workshops and talks on specific themes, information on calls related to fashion and textile and info on EU policies and funding schemes. Programmes for women entrepreneurs are always needed'' – Ms. Federica Leonetti, Chair of Enterprise Europe Network Sector Group Textile & Fashion
The importance of collaboration within the ecosystem and sharing of good practices was highlighted in this webinar by sharing experiences from G20 countries and promoting women's economic empowerment as an integral part of the G20 process through a broad dialogue by Ms. Virginia Littlejohn Co-Founder and President Quantum Leaps, Inc. US Delegate to the Women20 of the G20 countries
''Putting the best practices in practice and transfer the knowledge in the centres for women entrepreneurship is the best model to be used by our experience. Best way for emphases the best practices is to include them in the activities, to show they work and to support the process of preparation of documents and strategies by reaching the policy makers who has tools to implement them. Policy measures are used for providing different recommendations and development of specific policy measures that influence the policy makers.'' Ms. Mariya Zlateva, financial manager of the Regional Agency for Entrepreneurship and Innovations – Varna & coordinator of the WOMEN in BUSINESS project.
''Within the seven years of existing, WEDO movement is stronger than ever with an army of over 200 global ambassadors leading and celebrating the movement in 144 countries and empowering women and girls to become active participants in the economy by igniting a network of women leaders, innovators, and entrepreneurs to initiate start-ups, drive economic expansion, and advance communities around the world. Women are an undeniable and incredible force, and by uplifting and empowering women, we uplift communities and economies around the world.'' – Ms. Wendy Diamond, founder & CEO of WEDO
If you missed this WEbinar and would like to watch it again, you can find the recording below: