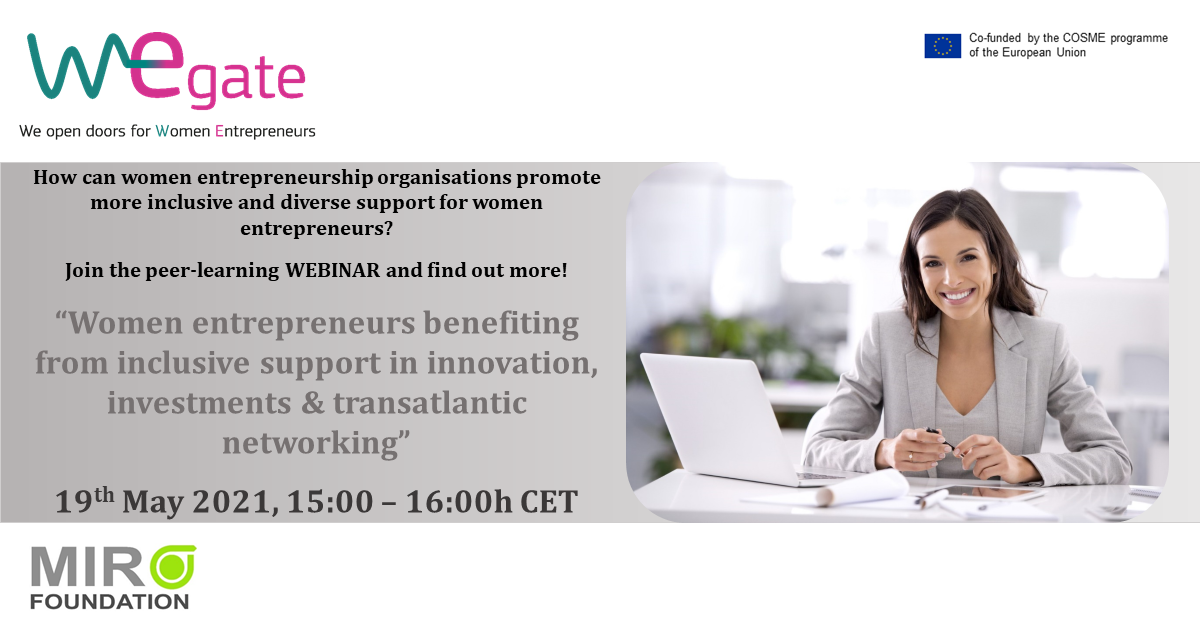 Date: 19th May 2021
Time: 15:00 -16:00h (CET)
Are you interested in finding out how can women entrepreneurship organizations influence and create policies, networking opportunities and make diverse investment ecosystem? Join the webinar and attain direct insight in the use of networking, public support and role models to encourage the presence of women in business and favour an inclusive approach to innovation, share practices and importance of transatlantic networking, lobbying and public policy creation for supporting women entrepreneurship.
Sessions:
Our WEgate partners Innovate UK EDGE, key UK innovation agency's resource for innovative SMEs, will give a presentation on the following topic: Women who innovate: inclusive approaches to innovation in the UK and share its good practice on public support for women entrepreneurship.
Female Founders of the Future (FFOF), members of WEgate community council, will share more on their initiative Diversity-Commitment.com where investors and match makers have formulated and signed common goals for diversity and investments in Denmark. FFOF works to make Denmark an even better place to start and scale your own business for ALL, buy intentional designing for equality and diversity in collaboration with entrepreneurial ecosystem stakeholders.
A presentation by Canada Europe women in business will follow, where they will share the benefits of Canada-European Union Comprehensive Economic and Trade Agreement (CETA) has brought to European and Canadian Small and Medium-sized Enterprises (SMEs) and its effects on women entrepreneurship empowerment.
Our friends from Turkey, Women Entrepreneurs Association of Turkey (KAGIDER), whose mission is to support women entrepreneurship because they believe that women entrepreneurs have a strong impact on reversing the trends of gender inequality and women's economic exclusion, will share its good practice on how one organization can influence creation of public policy, that contributes to promotion of the business environment.
Moderator: Gabriela Kostovska Bogoeska, Executive director of Foundation for Management and Industrial Research, Coordinator of the WEgate Community Council.
The webinar welcomes: women supporting organizations, women entrepreneurs, WE government supporting agencies and other relevant WE stakeholders
Reserve your spot here, and enable your interaction with the speakers during the live sessions.
Contact:
Elena Stojanovic