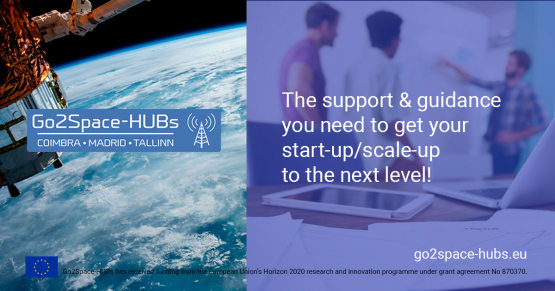 The Go2Space-HUBs second call for the Acceleration Programme, which is targeted at start-ups and scale-ups that work in the Space Sector, in the following thematic areas, is open:
'Space-related projects for a digitalized Europe' (e.g. big data, IoT, smart cities, smart transport)
'Space-related projects and applications to solve the Sustainable Development Goals' (e.g. low carbon future, social impact)
'Space-related projects in Defence & Security' (e.g. cyber, military, big data, fintech)
'Spacetech Excellence' (space upstream & downstream sector)
Ten established start-ups or scale-ups will be involved in an intensive three-month acceleration program of online training and individual mentoring. Moreover, the participants will attend networking activities with experts from government, industry, research and investment sectors, and participate in events on the space sector, where they will present their solutions to potential investors and find strategic partners to grow their business globally.
Go2Space HUBs project is fully committed to ensure the gender equality. At this aim, it includes the following strategic objectives to ensure gender balance in the design of the initiatives and activities under the project. Among other measures, to ensure gender balance the HUBs will aim to ensure that participation of one gender (men or women founders, co-founders, or people in key management positions) is not be below 30% in the Incubator and Accelerator programmes.
The Go2 Space HUBs Acceleration Programme is run by HUB Madrid (Spain) at UC3M Science Park, where participants will receive online training and individualized mentoring in market and investment readiness, reinforcing technology base and reviewing operations management.
It will also include sessions for the knowledge, management and data processing of the Earth observation platform DIAS Environment, on European financing programs, including the SME Instrument that finances innovative projects and on the Technology Portfolio of the European Space Agency (ESA).
Cut-off date: 5th March 2021
All the information in the following link: https://go2space-hubs.eu/call/
About Go2Space-HUBs  
Go2Space-HUBs Go2Space-HUBs (Generating new sOlutions 2 and from Space through effective local start-up HUBs) is a European Project to secure the creation and up-scaling of European businesses, offering technology and services in and from the space sector, ensuring value creation and innovation through cross-fertilisation, training, and locally owned. In order to achieve this, three new Space Hubs have been set-up in Coimbra (Portugal), Madrid (Spain) and Tallinn (Estonia), strengthening local entrepreneurship, business ecosystems and networks. These three hubs have extensive experience in providing support to start-ups and they are supported by entities that are experts on investor readiness, access to finance services and technology transfer, in addition to an aerospace cluster representing SMEs from all the relevant space-segments. The consortium includes six partners from five different European countries that represent key players in the local and regional start-up ecosystem:
Project Coordinator:
Universidad Carlos III de Madrid (Spain)
Consortium members
Instituto Pedro Nunes (Portugal)
Madrid Aerospace Cluster (Spain)
Technology Partners (Poland)
Europe Unlimited (Belgium)
Tehnopol (Estonia)
The project is financed by the European Union's Horizon 2020 research and innovation programme under grant agreement No 870370. It has a duration of two years, and an overall budget of 1.1M €.