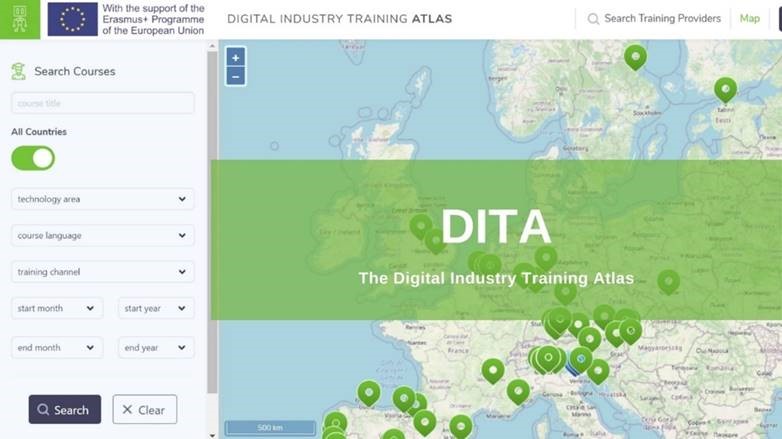 The DITA Atlas Erasmus+ project (Digital Industry Training Atlas) aims at mapping, visualizing and connecting training initiatives (from masters to weekend short courses) around Europe focused on Digital Transformation. As part of the project, a digital tool called The Digital Industry Training Atlas provides visibility of the training programs offered in Europe through an accessible, online catalogue. The catalogue displays the connections established between training programs and their organizations during the project. The map helps end-users to immediately identify and connect with the most relevant training organizations. The innovative platform that brings together the training programs about digital transformation around Europe is free, linked to European Industry 4.0 communities, and serves as a means to increase the visibility of courses and training organizations, a "platform" to facilitate the rise of new innovative projects.
DITA is open to all Training Organizations and Digital Innovation Hubs which want to join it, showing their training offer and open to creating new synergies with other European Organizations.
DITA aims to improve access to digital transformation offered to women entrepreneurs and SMEs led by women, fill the skills gaps in digital transformation in European SMEs, strengthen transnational cooperation among synergic training organizations and increase the mobility opportunities of trainees in the European digital industry scene by a) providing an overview of available training opportunities in the field of Digital Transformation, b) supporting trainees in identifying which available training opportunities may best fit to their needs and expectations; c) establishing permanent cooperation schemes among the identified training, programs and facilities, d) delivering and maintaining an open supervised tool (the Atlas) to connect and display available training opportunities in Europe about digital transformation.       The platform also serves as a matchmaking tool among training providers and entrepreneurs looking for new opportunities and partners for training opportunities and future projects. The future adaptation of the project foresees the possible inclusion of green and soft skills. The project is implemented by a consortium of 7 Partners from 6 different Countries (Austria, Belgium, Germany, Italy, Portugal and Spain) plus a Network of 15 Associated Partners, 5 H2020 Projects, The Pan European Network of DIHs, DIHELP Initiative, Digital Skills and Job Coalition. You can find more information on the project and join the Atlas platform at the following link: https://www.ditaproject.eu/atlas/.