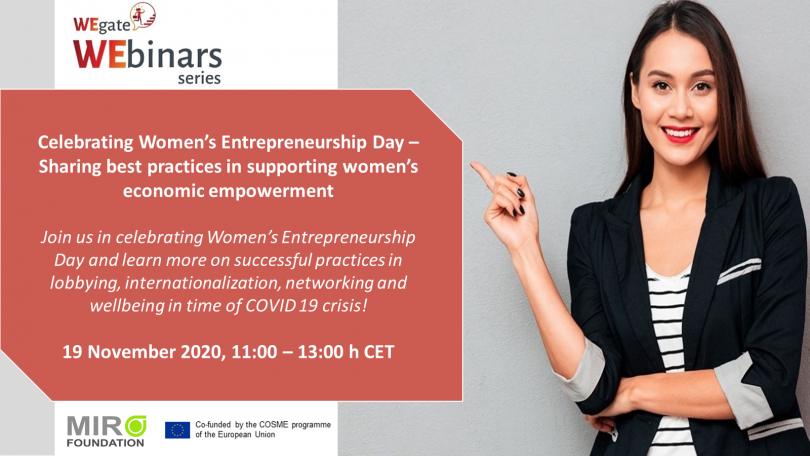 November 19, 2020 11:00 AM – 13.00 PM
Join WEgate in celebrating Women's Entrepreneurship Day and learn more on successful practices in lobbying, internationalisation, networking and wellbeing in time of COVID 19 crisis.
Register here
This event aims to enable our participants to discover the good practices implemented by different organisations that support women entrepreneurs to start or grow their businesses as well as in empowering women in broader context.
Attendants will learn more about strengthening practice and about coordination and collaboration among the community of women entrepreneurs. They will gain insights into women empowerment, support  to women entrepreneurship support and to a culture of learning.The speakers will present their practices for supporting women entrepreneurs and promoting the socio-economic empowerment of women.
Our speakers for this webinar include:
• Amélie Leclercq, European Women's Lobby Board member
• Yulia Stark, President of the EWA European Women Association
• Federica Leonetti, Chair of EEN Sector Group Textile & Fashion
• Wendy Diamond, Founder/CEO LDP Ventures/Women's Entrepreneurship Day Organization (WEDO)/#ChooseWOMEN/Animal Fair Media, Inc
• Virginia Littlejohn, Co-Founder & President, Quantum Leaps, Inc. US Delegate to the Women20 (W20) of the G20 countries; Co-Chair of Women Entrepreneurship Working Group; and Co-Head of the US Delegation
• Mariya Zlateva, Project Coordinator of WOMEN in BUSINESS project, Regional Agency for Entrepreneurship and Innovations – Varna (RAPIV)
Moderator: Gabriela Kostovska Bogoeska, Executive director of Foundation for Management and Industrial Research, Coordinator of the WEgate Community Council.
Register here